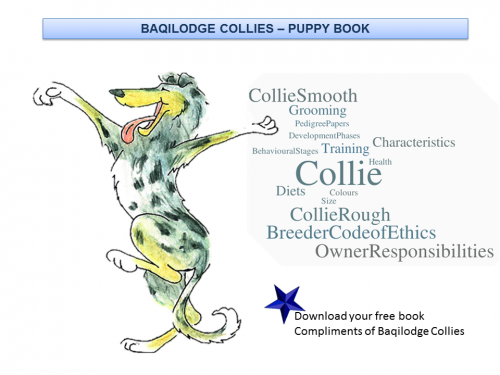 Download your FREE book (with lots of pictures) here: Baqilodge Collies – Puppy Book – revised 2019
After 45+ years of owning collies and nearly 30 years of breeding, I have put the information I believe a prospective new collie owner needs to know into this book.
The book has two distinctive parts.  The first section is for those who would like more information about our lovely breed and the second part is a reference for when your new puppy arrives. (Most of the second part of this book would apply to any breed of puppy – not just collies).
Topics covered:
First section
INTRODUCTION TO COLLIES
Second Section:
SECTION 1:  LIVING ARRANGEMENTS AND KEEPING YOUR PUPPY SAFE 
SECTION 4:  KEEPING YOUR COLLIE HEALTHY 
SECTION 5: PUPPY DEVELOPMENT STAGES 
HAPPY READING:  Baqilodge Collies – Puppy Book – revised 2019
If you have trouble downloading this book, I can send it to you on a USB for a small fee covering the cost of the USB and postage.  Just contact me through the 'Contact Us' page.