Welcome to Baqilodge
AFTER YOU HAVE FINISHED VISITING THIS SITE COME BACK AND DO A FUN SURVEY. WE WOULD LOVE TO HEAR FROM YOU.
Click Here to Take Survey
 Am Ch/Ch Blossom Hill American Dream (IMP USA) was selected to represent her breed on many items of  merchandise sold at the COLLIE NATIONAL SHOW 2009.  It's lovely that our American Imported Smooth Collie is so highly admired as to be the "chosen one".
If you would like to know each time we update this site click on the "subscribe to updates" button and follow prompts. You will then receive an email when changes are made to this site.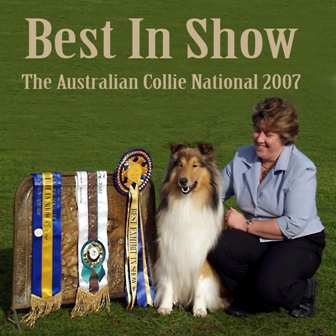 BAQILODGE PAID THE PIPER
"Dollar"
AUSTRALIA'S 2007 NATIONAL WINNER
achieves a spot on this website!!!!
This has been a longstanding joke between Dollar's owner, Julie (Kaden) of Mistryde Shetland Sheepdogs, and me. Long before Dollar was winning big – in fact when he just a little tacker, Julie asked me if I would include him on my website as she does not have one. I, of course, agreed and then failed to update my site. Over this period of time, Dollar has been very successfully campaigned by Julie with Best in Shows and Runner-up Working Dog of the year – to name a couple of their big achievements. After he was Best Exhibit at the Australian Collie National, Julie asked again about putting him on my web pages. "Definitely", I said. A little while ago Julie asked – "Just WHAT does Dollar have to do to get a spot on your site?" I flippantly suggest another Best In Show would help – and of course that is exactly what they did!
Even though it has taken 3 years for Dollar to get his spot I am EXTREMELY proud of him and his loving owner who has made his career possible.
To see more of him – check out Our Boys on this site.