Location

WHERE IN THE WORLD IS BAQILODGE?

We live at the bottom of the world, in quite a magical place (according to me of course…)
 Tasmania is an Island State of Australia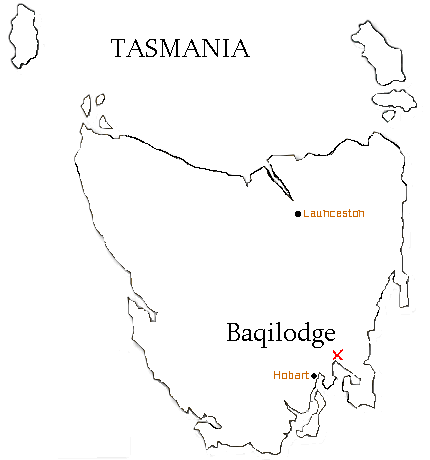 Some facts about Tasmania.
Tasmania is the smallest State of the Commonwealth of Australia.
It is an island situated approx 250 kilometres (150 miles) south of the main land of Australia
Our island state lies between latitudes 40 degrees and 44 degrees south, and between longitudes 143 degrees and 149 degrees east.
It is 315 kilometres (189 miles) west to east and 286 kilometres (175 miles) north to south, making the area of Tasmania
 68,331 square kilometres (26,376 square miles).
It is the 26th largest Island in the world.
Approximately ½ a million people live here.
The main centres are the capital, Hobart, in the south, with approx. 250,000 people, and Launceston, in the north, with about 100,000 people.
There are four airports, with the Hobart and Launceston airports being the main ones. Flying time from Hobart to Melbourne (Vic) is approximately 1 hour and 2 hours to Sydney (NSW).

Daily, two passenger and vehicular ferries travel between Devonport on the North West Coast of Tasmania and Port Melbourne, Victoria (mainland Australia). The ferries are named  Spirit of Tasmania I and Spirit of Tasmania II. They take approximately 10 hours to make the crossing each way.

AVERAGE DAILY MAXIMUM TEMPERATURES
Place
Summer
Winter
Hobart
22°C / 72°F
12°C / 53°F
Launceston
24°C / 75°F
13°C / 55°F
Tasmania has a temperate maritime climate with four distinctive seasons. In winter, the earliest it becomes dark is about 5pm.  At the height of Summer it is not dark until  9:30pm.  The extended twilight hours provide opportunities to 'play' after work. In springtime: September, October and November, the Island can be hit by winds called  'The Roaring Forties' which can produce gales that, as an old saying goes, 'can blow dogs off chains'.  Calmer, balmy weather dominates the other seasons.
The climate also provides many benefits for those wishing to discover our beautiful rainforests and wilderness areas.
Visits with our unique wildlife like the Tasmanian Devils, wombats and native pygmy possums are often a highlight for tourists.
Our island is noted worldwide for high quality produces including wines, cheeses, fish, oysters, berries, stone fruit, apples, hops, vegetables, poppies, barley, lavender, beautiful timbers and flowers to name a few.
Tasmania also has a very active arts community and many festivals.
Some Interesting and True Facts About Tasmania:
Tasmania has more visitors per year than its entire population.
Tasmania has the cleanest air in the world, measured at Cape Grim on the north-west coast.
Tasmania has the lowest crime rate of any Australian state.
Hobart is the second driest capital city in Australia, after Adelaide, SA.
Tasmania Has Australia's Oldest:
 live theatre venue: The Theatre Royal in Hobart.
 brewery. The Cascade Brewery is in Hobart.
 golf course which at Bothwell, in the Midlands.
 bridge still in use. It was built by convicts at Richmond in 1823.
Tasmania boasts many 'firsts' for Australia.
And one of those is :
THE VERY FIRST DOG SHOW IN AUSTRALIA WAS HELD IN TASMANIA – 1862

'The Hobart Mercury'  reported:
'The Canine Exhibition of 1862 First in Australia was conducted on November 12 at Mr Moore's Horse Bazaar in Liverpool Street, Hobart Town, by the newly formed Society for the Improvement in the Breed of Dogs (changed to the Canine Society in 1883).
Breeds exhibited were Setters, Pointers, Spaniels, and other field dogs, Greyhounds, Harriers, Beagles, and Retrievers, Bulldogs, Bull Terriers, Rough Terriers, Smooth Terriers, Fox Terriers, Newfoundland's and Sheepdogs,
(Black and Tan Sheepdogs, Esquimaux Poodle, Poodle and a Smithfield Colley)."
The second documented dog show, and the first on the mainland, was in Melbourne in April, 1864.