CHAMPION CORYDON WINDS OF VICTORY (IMP UK)
Sire: CORYDON VICTOR LUDORUM   Dam: DEMELEWIS CATCH THE BREEZE FOR CORYDON
HARDY
DOB: 09/02/2014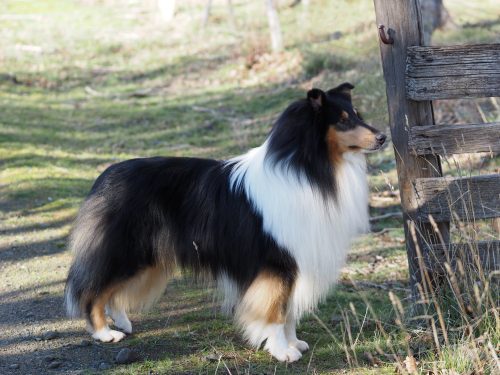 Hardy is owned in partnership with Miranda Blake (Corydon) and Dr Rob Hall (Pintado)
He resides at Baqilodge
Born and raised in the Corydon Kennels in England here are a few baby photos.
Hardy – just a baby
Hardy joined us in Tasmania on February 28th, 2015 –  just after celebrating his 1st birthday.
On meeting him at Hobart airport, I helped him exit his crate and I'll not forget my first reaction.  I had a huge grin on my face and Rob (Pintado Collies) asked why?   I said – 'He has the best front, Rob, just put your hands over it.'  This was my first impression of him.   Judges have followed this up with comments too telling me that 'he has the best front they have found on a collie for some time'.   He does have other lovely attributes too – but I'll not forget that first one that hit me.
It was not until the 1st January the following year (2016) that he went to his first show here in Oz.  Even though he was still not in full coat, he was Best of Breed, Runner Up in Group (Group 2) and Intermediate in Show that day under All Breeds Judge, Ms Jean Hargreaves.  It was a lovely way to start.   Over the next two months he quickly gathered the 100 points for his Championship collecting many in-group and in-show awards with another Runner-up in Group under collie specialist judge, Mr Lance Heilman, SA, along the way. He gained his Australian title in March 2016.
---
Since gaining his Championship title he has been to less than ½ dozen shows – due to other commitments in my life.  However, he has produced four champions, Ch. Pintado Sea Warrior and Ch. Pintado Soft Breeze, Ch Pintado Pinafore and Ch Baqilodge Sealed Deal, with several more well on their way to their titles. Another of his off-spring is, Georgie, (Baqilodge Piccolo).  Georgie is the Diversional Therapy dog for the largest hospital in Tasmania – the Royal Hobart Hospital (RHH). She is affiliated with the RHH through the Occupational Therapy Department.
Before Hardy left England he sired a litter for Lorraine Quince of Karafaye Collies in Scotland. Lorraine kept one of his daughters, Karafaye Black Beauty, AKA 'Connie'.   Connie has had some lovely big wins and her critiques can be read here:
We love our 'Mr Hard Yards' and we are looking forward to an exciting future.
The above photos were taken by Miranda, August 2018, when she visited her two boys here in Oz.
Pedigree of:

Champion Corydon Winds of Victory (Imp UK)

Parents

Grand Parents

Great Grand Parents

Sire:

Corydon Victor Ludorum (UK)

Dan.Ch. Pahlex Dollar N Dime (Denmark)

 Am. Ch. Tartanside Allegiance (USA)

DK UCH, INT. CH. NORD.CH. Corydon La Suprema (Denmark)

  Corydon Follow Me (UK)

Eng. Ch.  Demelewis Dar Moon Driftin Over Corydon

Corydon Fancy Me (UK)

Dam:

Demelewis Catch the Breeze for Corydon (UK) (2CC's)


 Eng. Ch. Corydon Once in A Blue Moon

Wicani Waltz Of The New Moon (UK)

Demelewis Muffin Moon with Corydon (UK)

 Demelewis Mooncatcher (UK)

Corydon Catch Me (UK)

Demelewis Raven Moon (UK)