AMERICAN AND AUSTRALIAN CHAMPION BLOSSOM HILL TOAST OF THE TOWN



Sire: AM. GRAND CHAMPION EDENROCK GOLD TRACE      Dam: AM. CH. BLOSSOM HILL PETITE SIRAH

DENNIS
19/09/2012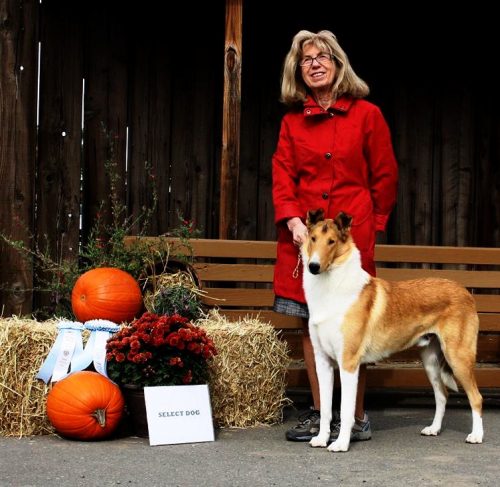 Owned in partnership with Sue and David Kennedy, in Victoria, and his breeder, Mary Wells in California.
He resides with Kaelyi Collies in Victoria.
It was thrilling to welcome Dennis to Australia – 10 years after Anika!  Before setting out to join us he gained his American Championship at 13 months of age in strong Californian competition.

After arriving in Australia, Dennis has always lived with David and Sue in Victoria.  He has had a very successful show career with us, exhibiting in Victoria, New South Wales and South Australia – with the odd visit to Tasmania.  
He is renown and loved for his classic collie attributes, lovely delightful, gentle temperament and clownish ways.  Thank you Mary and Paul for letting another absolutely beautiful collie come and live Down Under.

He is now becoming a very successful stud dog with Champion offspring and we are excitedly looking forward to some more of his puppies. We have his lovely son, Champion Baqilodge Nickle and Dime and the happy, gregarious Baqilodge Oh Red Red Wine, who is very close to her Championship title.
DENNIS ARRIVES IN AUSTRALIA – click to open 
Certified Pedigree – Am. and Aust. Ch. Blossom Hill Toast of the Town (Dennis)
---
---
A video clip of Dennis at the start of his show career in Australia. 
DENNIS    Click to open
In this clip he is being shown by David. 
Sue has Ch. Baqilodge Zats All Folk behind him and the third dog is a Calstead collie.
---
Dennis has had a wonderful show career in Australia with prestigious wins under Australian and International Judges from the Americas, Europe and Asia – he could win anywhere!
There is only one Dennis, happy, playful, super smart and believes everybody is his best buddy. We are thrilled that he is our Dennis!  Thank you Mary and Paul.
Pedigree of :

AMERICAN AND AUSTRALIAN CHAMPION BLOSSOM HILL TOAST OF THE TOWN (Imp USA)


Parents
Grand Parents
Great Grand Parents

SIRE:

American Grand Champion Edenrock Gold Trace


 Am. Ch. Timeless Golden Warrior

 Am. Ch. Marnus Golden Ruler

 Am. Ch. Oak Knoll Timeless Reflection

 Am. Ch. Jancin's Legacy at Edenrock

 Am. Ch. Edenrock The Mask of Society

 Jancin's Days Of Wine and Roses

DAM:

American Champion Blossom Hill Petite Sirah


 Am. Ch. Blossom Hill Brother Thomas

 Am. Ch. Blossom Hill Pardon My Dust

 Am. Ch. Blossom Hill Kiowa Black Pearl

 Am. Ch. Blossom Hill Circle Of Life

 Am. Ch. Fantasy's Bronze Sensation (ROM)

Am. Ch. Blossom Hill Full Circle (ROM)