ANCESTRAL HISTORY OF AMERICAN & AUSTRALIAN CHAMPION BLOSSOM HILL AMERICAN DREAM (IMP USA)




Sire: AM. CH. FANTASY'S BRONZE SENSATION(ROM)         Dam: AM. CH. BLOSSOM HILL FULL CIRCLE (ROM)



ANIKA
14/1/2003 – 28/9/2016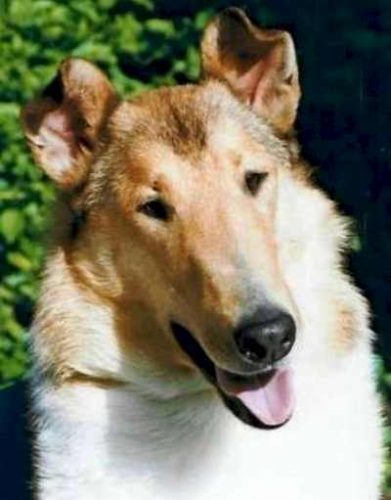 Who, why, where and because…
Because Anika is the first Blossom Hill collie to come to Australia, I thought I would introduce some of her immediate family and give an account of their history and how I was lucky enough to acquire the beautiful American Champion Blossom Hill American Dream.
Meeting Blossom Hill Collies:
In 1987 I was living in California and introduced myself to Mary Wells of Blossom Hill Collies at a dog show. Mary and I had an instant rapport and I fell in love with one of her smooths that she was campaigning at the time – Ch. Blossom Hill Bridge To Kasan, 'Patch'. Mary was also showing Patch's litter brother and sister, Ch. Blossom Hill Iron Eagle and Ch. Blossom Hill Elizabeth R. They were all beautiful blue merle smooths, but it was Patch who captured my heart. Mary's smooths were the first that I had the chance to see up close. (I had watched smooths being exhibited when I lived in Texas, but had never had the opportunity to get to know them).
As An aside:
Blossom Hill Kennels breed both rough and smooth collies and it was Mary and Paul's blue merle rough, Ch Blossom Hill Blew By You, 'Murphy', who was No.1 Rough in the Nation, 1985. He had won 3 BIS, 5BISS, 121 BOV or BOB and was the 1985 Takalon's Blue Banner Winner for the Top Winning Blue Merle in America (all before the age of 5). He is Anika's great, great, great, great grandfather. Unfortunately, I didn't have the opportunity to meet Murphy.
Back to Patch:
Ch. Blossom Hill Bridge To Kasan,  as his name suggests, goes back to Kasan and Arrowhill lines. Patch's father was Ch. Crystal Bear of Kasan who was the Smooth Winners Dog at the Collie Club of America National 1984. (Notably, Crystal Bear goes back five times to that first famous American smooth collie whom the whole world knows, Ch. Black Hawk of Kasan). While Patch stole my heart, he also stole the hearts of others including the judges and was No 4 Smooth in America in 1990 and remained ranked in the Top Ten for several years (Hawkins System).
When Patch was mated to Blossom Hill Queen Of Hearts (Murphy's granddaughter) he produced the fabulous tricolour bitch, Ch Blossom Hill Homecoming, 'Annie', whom I coveted.
As much as I would have loved a Patch offspring quarantine requirements at the time (9 months) made it out of the question for me.
Mary then bred the lovely tricolour, Annie, to her rough boy, Ch. Twin Creeks Lonesome N Blue, an  Award of Merit (AOM) winner at Westminster 1995.  That mating produced Anika's grandmother – Ariel.
Ch Blossom Hill Day Dream ROM – Ariel:
Ch Blossom Hill Day Dream ROM, AKA Ariel, became a top producing bitch with 9  champion children; four of whom have been, or currently are in the Top Ten Smooths list (Hawkins System).
(ROM is Register of Merit. To gain this status in collies a bitch has to produce 7+ champion offspring and a dog has to produce 20+ champion offspring. This award is very prestigious and very highly regarded in America).
The mating of Ariel to Ch. Fantasy's Bronze Talisman (ROM) 'Brandon' produced the history making Ch. Blossom Hill Full Circle – 'Cinnamon' (Anika's mother).
Meet Cinnamon's  Father –  Brandon:
Cinnamon's  father, Ch. Fantasy's Bronze Talisman ROM, 'Brandon', is the top-producing collie in the history of the breed in America with 171 Champion children. An interesting but useless fact – Cinnamon was the 11th champion get for Brandon.  Brandon us also a Performance ROM (ROMP) sire. (In order to be included in the Performance ROM a dog must have sired at least 5 offspring receiving an AKC Obedience, Tracking, Herding or Agility title, with at least two of those offspring having achieved a CDX, TD, HS, OA, OAJ or higher level title).  Brandon sired 16 performance dogs .  
Brandon was the Top Sire All Breeds 1999, 2000, 2001 and 2002. He was the Top Collie Sire: 1999, 2000, 2001, 2002, 2003, 2004 Pedigree Top Producers
He is the sire of the Collie Club of America (CCA) National:
Winners Rough Dog 1998

Winners Rough Bitch 1999

Reserve Winners Dog 2000

BOS Rough 2001

BOS Smooth 2001

BOS Rough 2002

Winners Rough Bitch 2002

2003 – At the Collie Club of America National his daughter, Ch Blossom Hill Full Circle took out the Best Opposite Sex in Show, while he, at over 8-years-of-age, won an Award of Merit. At the end of 2003 he ranked as America's number 13 rough collie show dog (Collies On Line)

At the Collie Club of America National 2004 he was Best Veteran Dog while a number of his offspring won high awards which also included his son taking 2nd in the Stud Dog Class.
Brandon was bred by Debbie Holland of Fantasy Kennels in Indiana. Although he is America's top producing sire of all times it is not by accident. His ancestors are some of America's top producing collies. Both of his parents and all of his grandparents are Register of Merit (ROM) sires and dams. To find out more about Ch. Fantasy's Bronze Talisman ROM and his offspring go here: Brandon.
Brandon and Ariel's Daughter – Ch. Blossom Hill Full Circle  ROM- 'Cinnamon':
Cinnamon  was to become (and still is in 2019) the top winning BEST IN SHOW collie (Rough or Smooth) in the history of the breed in America. In 2004 she was the Top Producing Collie Bitch (Rough or Smooth). She held the number one smooth placing in America (All Systems) for 2000, 2001 and 2002. In 2003 (only attending one show – The National) –  garnering enough points to rank 3rd – just behind her brother, Hal, who placed 1st in the Top Ten (Collies On Line System). She has rewritten all the records with 28 Best in Show All Breeds, 86 Best in Group or Group 1's, 21 Best in Show Specialties, 3x Best of Variety at Westminster and 2x Group 4's at Westminster. She ended her show career with Best of Variety Smooth and Best Opposite Sex in Show at the Collie Club of America National in 2003 – while her 13-week-old babies were at home taking 'lessons in life'.
Click on the link to see what 'Sting' had to say about Cinnamon: Sting said…".
 Cinnamon is Bred to Nick:
Cinnamon in turn was mated to Ch. Fantasy's Bronze Sensation ROM, 'Nick' who incidentally, placed second in the Open (sable & white) Dog Class at the 2002 CCA National and was second in the Stud Dog Class of 2004.  This 1st breeding for Cinnamon produced an outstanding litter with American and Australian Champion Blossom Hill American Dream – 'Anika'  being one of those puppies.  Cinnamon is the mother of 12 puppies (from 2 litters) – 8 of which become American Champions.
Cinnamon with Baby Anika and her Brothers and Sisters:
That Anika is tightly bred is a huge bonus seeing that some of the breedings with her here in Australia will be outcrosses to her. I am very grateful that both Mary of Blossom Hill and Debbie Holland of Fantasy Kennels are diligent with their breeding programs and attentive to the health of their collies.
Well that covers some of Anika's family history. How did I get to be so lucky? – I don't know.
---
Mary and I did briefly discuss the pros and cons of my importing a Patch son or daughter many years ago, but, as I previously said, the requirements of that procedure at the time decided us against it. When Australian quarantine protocols regarding the importation of dogs from America changed, I revisited Mary with the idea. In 2000, a litter was born and there was a smooth male that we hoped would come to Australia, but circumstances changed and Tyler could not come.
However, I kept my order in for a future litter – hoping that conditions would be favourable next time. I knew it might take a little time as Blossom Hill is a small kennel and breedings are selective and infrequent. Low and behold 'the planets lined up' and in January, 2003, Anika was born. The smallest in the litter – she was mine. Mary had decided to allow Cinnamon's children from her first litter to only go to her friends. How lucky am I that I was one of those friends. I would not have had this opportunity if Mary and I had not met all those years ago and it is special to me that one of Anika's ancestors is that singular dog, Ch Blossom Hill Bridge To Kasan, who open my eyes to the beauty, character and special attributes of the smooth collie back in 1987.
---
Vedamea
Last but not least – while I have been waiting for those 'planets to line up', my Lady Luck was still at work and playing in Leah and Barry Ryan's lives as well. Leah watched a video and instantly fell in love with a little Fantasy collie by the name of  'Juliet' and now Australian Champion Fantasy's Fait Accompli (Imp USA ). Just as soon as Leah could arrange it, Juliet came to live at Vedamea Kennels, Sydney, Australia. Vedamea Collies
Juliet's father is the CCA Rough Winners Dog 1998, Ch. Fantasy's Fortune in Bronze and her mum is Boham's Cherished Dream. That celebrated producer, Ch. Fantasy's Bronze Talisman ROM, is the sire of both of Juliet's parents. Once again, Juliet has that tight breeding, so necessary for breeding to lines that are outcrosses to her.
Leah has already proven how valuable this tight breeding is with Juliet's first litter to Ch. Vedamea The Diamond Beau who, by the way, is a 2 times Best of Breed Winner at Sydney Royal Championship Show. There were six offspring from this mating. All are being exhibited and 5 are Australian Champions. All have had multiple in-group/in-show wins at All Breeds Championship Show level and five have in-show, including a Runner-up to Best Exhibit in Show win/s at Specialty Shows with the sixth one taking a 25 point challenge and Best of Breed at the Illawarra Collie and Shetland Sheepdog Championship Show, 2003.
I am very fortunate to have one from that litter – Champion Vedamea Just A Fantasy, 'Paris' . The real value of the tight breeding will be seen as the breeding programs go on. I can't thank Leah and Barry enough for allowing Paris to come to Baqilodge. She is going to be so valuable to me as, hopefully, she will play a key role in 'setting' the genes in my breeding program with Anika.
---
Corydon
My Corydon collies, of whom I am very proud, have pedigrees that have been carefully and skillfully crafted over many generations by John and Barbara Blake, and their daughter, Miranda in the UK. The Corydon Kennel usually has between 12-18 collies and even in their busiest year only breed one to three litters. However over 90 champions have been bred from this kennel. A number of them have held dual conformation championships, i.e. one gained in the UK and another in a different country or titles gained in two different countries. Corydon champions have been recorded in 17 different countries worldwide.
The Corydon Kennel has also held the record for Top Collie Kennel in England – 1985/86/96/98/2000/2001 and are breeders of three different World Winners. A significant number of their collies who have been exported to other countries have also gone on to become top producers in their new homelands.
The importance and respect this kennel has achieved is evidenced in that it is probably the only collie kennel and I suspect maybe the only dog kennel in the world to have its own International Fan Club (ACP), based in Finland. ACP publishes a substantial colour magazine 6x per year, allowing Corydon collie owners worldwide to access health records, photos, stories and other valuable information regarding the Corydon dogs and their offspring. The Corydon home kennel over the years has attained many achievements and records.
One current record is owning and exhibiting of the Top Winning Collie in the history of the breed in the UK, Ch Phreelancer Phrosty Moon Over Corydon (Sire: Ch Brilyn Rum 'N' Black, Dam: Corydon Silver Moon). He is also the winner of Best of Breed at Crufts for three consecutive years.
The lastest record achieved was when our Ch. Corydon Black Zerxes (imp UK) gained his Australian Championship – making him the 10th Australian Champion for the English Corydon Kennel – the only off-shore collie kennel to have such a large number of Champions in this country. Corydon Collies
Believe it or not, it was Mary (Blossom Hill) who was instrumental in Corydon Bee Whimsical (Imp UK) coming to Australia as one of my foundation bitches. Mary and I were visitng at Corydon when I purchased the 8-week-old tricolour, Australian Champion Corydon Bee Fancy (Imp UK ). However, Mary thought that her sable litter sister, who had been promised to people in Wales, had to come to Australia too. Mary lobbied Barbara (Blake) on my behalf until she agreed to see if the people in Wales would wait for a puppy from another litter. I am so glad that this scenario played out because Whimsy, along with her sister, Fancy (besides enriching our lives in many ways) have been tremendously valuable brood bitches for Baqilodge.
My Corydon lines have given me such a strong, solid base and a wonderful springboard into my breeding program and now I hope they will marry (nick) successfully with the Blossom Hill and Fantasy lines. If they don't – then I still have two exceptionally sound, typical collie lines with a couple of individuals spiced (for flavouring) with genes from other successful kennels. I hold great admiration for all. My goal now is to effectively continue on in a small way with the skilled and dedicated work that has already been done in these lines by their successful creators.
There is so much more I could say about Blossom Hill and Fantasy Collies – for those who don't know them – I think you would find it worthwhile getting acquainted.  I know everyone knows Corydon.
Pedigree of

AMERICAN & AUSTRALIAN CHAMPION BLOSSOM HILL AMERICAN DREAM (IMP USA)

Parents
Grand Parents
Great Grand Parents
SIRE

Am. Ch. Fantasy's Bronze Sensation (ROM)

Ch.Fantasy's Bronze Talisman (ROM )

 Ch. Vennessee's Midnight Edition (ROM 25)

Ch. Fantasy's Cover Girl (ROM 9)

Fantasy's Bronze Treasure

Ch. Fantasy's Fortune in Bronze

Cynabar N Westwind's Curio

DAM

Am. Ch. Blossom Hill Full Circle (ROM)

Ch. Fantasy's Bronze Talisman (ROM)

Ch. Vennessee's Midnight Edition (ROM 25)

Ch. Fantasy's Cover Girl (ROM 9)

Ch. Blossom Hill Day Dream (ROM 9)

Ch .Twin Creeks Lonesome N Blue AOM

Ch. Blossom Hill Homecoming