BAQILODGE KNOCK ON WOOD




Sire: CH. CORYDON OUTLAWED TO OZ (UK IMP)        Dam: BAQILODGE CADENZA
WILLOW
I hope to get this very pretty girl out into the conformation ring later this year – maybe for our Collie Championship Show in September and our Royals in October 2001!
Well, is now July 2003 and we didn't make it to the shows above. I have to admit Willow has only been to one show since 2001 – however, she did take the Challenge, and Runner-up Best of Breed at that show under an international judge.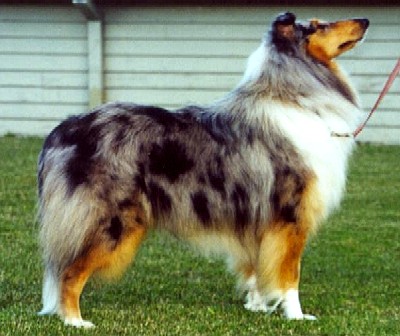 Willow would much prefer to leave the excitement of the exhibition world to her 'show off' kennel mates, Arcady and Paris, and while they are being exhibited we just might allow her that privilege.
Well, Willow never did make it back to the show ring. In fact, our fence jumping scoundrel has kept us busy in other areas. Never-the-less, we would not change it. She is now the permanent house dog, and she is very content in this role.

Pedigree of:

BAQILODGE KNOCK ON WOOD

Parents
Grand Parents
Great Grand Parents

SIRE:

AUST. CH. CORYDON OUTLAWED TO OZ (UK IMP)      

Eng. Ch. Corydon Blackcat

 Aust. Ch. Moonwizard at Corydon (UK IMP)

Eng. Ch. Corydon La Stupenda

Corydon Persephone

Eng. Ch. Corydon Blackcat

Corydon Moon Goddess

DAM:

BAQILODGE CADENZA

Eng. Ch. Corydon Gold Star (UK IMP)

Eng. Ch. Geoffdon Lawmaker

Corydon Hannastar

Aust. Ch. Corydon Bee Fancy (UK IMP)

Eng. Ch. Corydon Handsome Hotspur

Corydon Glory Bee