CHAMPION BAQILODGE JEWELS AND GEMS
Sire: SWINBRAD JAMAICA BLU TIGER               Dam: CH. BAQILODGE QUITE SO
REGENT
07/11/2013  

Regent lives in Victoria with Sue and David
She is named after the famous blue 'Regent Diamond'  and she has about the same value to us as what that diamond is currently worth –  an estimated $73,920,000 USD  – well on most days, anyway.
She started her show career in Tas. but before she was six months old she headed for the 'big smoke' where Sue and David have fostered her showing career. She is now one of Victoria's most consistent show winning collies.  She is also the featured collie, representing the breed, in the 2nd Edition of The Concise Australian Dog Judges Guide.
She has had two litters of puppies for us.  At her first breeding she surprised us with her timing and we nearly missed having any puppies at all!  In fact, even though we did the breeding, we weren't really expecting to get lucky – but we did  – with ONE super charged smooth baby – Rosco.  He is now Champion Baqilodge Nickle and Dime.  
This year, in her second litter, she gave us one  lovely little girl, Baqilodge Quilt Of Blue, among a pack of boys.  She had her second litter in Tas. and has just returned to Victoria, stepping back into the ring to take Best of Breed first time out.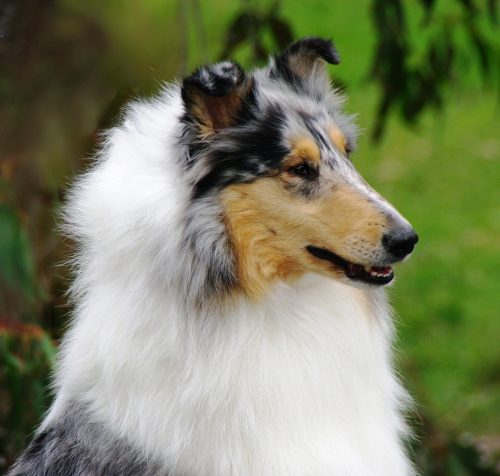 We all love her madly – but probably not as much as Dave does, and not as much as she loves Dave!
Pedigree of :

Champion Baqilodge Jewels and Gems

Parents
Grand Parents
Great Grand Parents
SIRE:

Swinbrad Jamaica Blu Tiger


 Baqilodge Tassie Tiger

Ch. Pintado Keps Wisdom

Ch. Baqilodge Quite So

Ch. Swinbrad Jamaica Fantasy

Ch. Vedamea Knight O Fantasy

Ch. Swinbrad Jamaica Blu

DAM:

Champion Baqilodge Quiet So


Champion Corydon Black Zerxes (Imp UK)

Eng. Ch. Corydon Black Cat

Corydon Gold Demelza

 Am. and Aust. Champion  Blossom Hill American Dream (Imp USA)

 Am. Ch. Fantasy's Bronze Sensation (ROM)

 Am. Ch. Blossom Hill Full Circle (ROM)