CHAMPION BAQILODGE QUIETLY SINGING




Sire: CH. CORYDON BLACK ZERXES        Dam: AUST./AM CH BLOSSOM HILL AMERICAN DREAM



ORIANNA
Below are sweet pictures of Orianna. The first taken when she was about 5 weeks old and the second when she was approximately 14 weeks old. Do you notice anything about these pictures?  Little Orianna just can't keep her legs still!
29th October 2006:    At her third show Orianna wins Best Baby Puppy In Group.
 May 2009:  Orianna has had a successful show career to-date. She was shown only a couple of times in Tasmania in Baby Puppy Class before going to Kaeyli Collies in Victoria as she entered Puppy Class.  From there she gained her Australian Championship in Victoria in strong competition
July 2008:  Before returning to Tasmania, for a vacation, she was awarded Best of Breed at the Victorian Collie Championship Show in 2008 (the largest specialty show in Australia). Attending only one show back in Tassie she won Challenge Bitch and Runner-up Best of Breed at our Tasmanian Collie and Shetland Sheepdog Club championship show.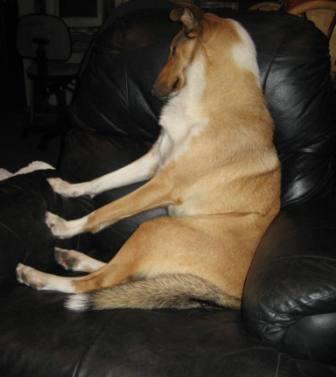 In the meantime,  in between snoozes, she has spend every available hour studying and monitoring all possum movements and knows the whereabouts of every possum on the property.
She is preparing to attend our National Collie show at the end of May 2009 and she will then attend some of our major shows following that event.
We have some new pictures of our elegant young girl who is now 'all grown up'  and enjoying life at Baqilodge.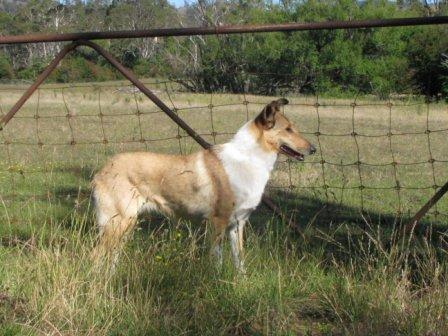 She is the mother of our lovely Champion Baqilodge Finders Keepers.
Pedigree of

CHAMPION BAQILODGE QUIETLY SINGING

Parents
Grand Parents
Great Grand Parents

SIRE:

CH. CORYDON BLACK ZERXES (IMP UK)      

Eng. Ch. Corydon Black Cat

  Ch. Corydon Moon Wizard (Imp UK)

Ch. Corydon La Stupenda

Corydon Gold Demelza (2CC's)

Eng. Ch. Alssala Canny Bairn at Corydon

Corydon Gold Delilah

DAM:

AUST./AM. CH. BLOSSOM HILL AMERICAN DREAM

Am. Ch. Fantasy's Bronze Sensation

Am. Ch. Fantasy's Bronze Talisman ROM

Fantasy's Bronze Treasure

Am.Ch. Blossom Hill Full Circle ROM

Am. Ch. Fantasy's Bronze Talisman ROM

Am. Ch. Blossom Hill Day Dream ROM