CHAMPION KGARI JARRAH




Sire:  CH. TYAGONG RAISING SPIRITS          Dam:  CH. BAQILODGE BELLADONNA



JARRAH
Some of Jarrah's achievements were:

Runner-up Best in Show Specialty winner
Runner-up Best in Group Winner
Top Winning Collie (Rough) 2001/2002
Dam of 3 Champions from only two litters

The above photo shows Jarrah at the 2000 Tasmanian Collie and Shetlands Sheepdog Club Championship Show being handled by my good friend, Petra Hakvoort, of Kazzahki Shetland Sheepdog Kennels.
Jarrah began her show career at 14 months of age when I begged my friend, Leanne Tinsley, of Kgari Kennels to allow me to take Jarrah to the 1995 Victorian Collie Club (VCC) Show Championship Show.
Up until this time Jarrah had only been shown twice as a baby puppy. She took Junior in Show at the VCC that year under Judge, Denise Grace (Jaymlyn Collies, N.Z.). She returned to Kgari Kennels but was not shown and then to my great delight, at the end of 1996, Leanne allowed me, under lease, to breed Jarrah to N.Z. Ch. Jaymlyn Ultimate Issue (N.Z. IMP).  This breeding produced Ch. Baqilodge Hats Off and Baqilodge Heart and Soul (who went to live with Pintado Collies)  At this time Leanne agreed to allow Jarrah to stay with me, for which I will be eternally grateful. Thank you so much, Leanne.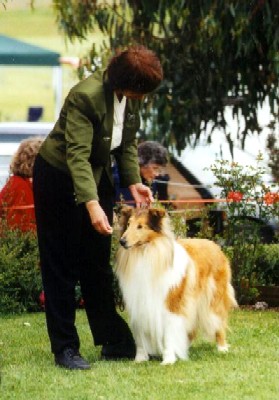 Jarrah's next show was at the end of 1997 and from there she has been shown intermittently going on to achieve her title while collecting. Best of Breeds, Runner-up in Group, In-Group and In-Show awards at All Breeds shows and Runner-up and In-Show awards at Collie specialty  shows. Some of these include:
LAUNCESTON ROYAL SHOW:
1999 – BEST OF BREED


2001 – BEST OF BREED
HOBART ROYAL SHOW:

2000 – RESERVE CHALLENGE BITCH & RUNNER-UP BEST OF BREED


2001 – RESERVE CHALLENGE BITCH
Her specialty wins include:
 Junior in show – The Victorian Collie Club Championship Show 1995 – Judge: Mrs D. Grace, NZ

 Best of Breed & Open in Show – The Tasmanian Collie and Shetland Sheepdog Championship show –  2000. with the following critique from Judge: Mrs Kishandra Nelson (WA).
"A classy bitch who has beautiful height to length ratio, a lovey refined head and although she is reluctant to use her ears when she does they are correctly placed. She has a beautiful balanced outline with all the correct curves in all the right places – a beautiful chest. Lovely turn of stifle and lovely short hocks. She moves very well from the side. A mature bitch full of class."
Best of Breed & Runner-up in Show – The Tasmanian Collie and Shetland Sheepdog Club 2001 – Judge: Mrs K Harris (NSW)
Our wonderful Champion Kgari Jarrah finished her show career at 8 years of age as the:
Tasmanian Collie and Sheltland Sheepdog Club's
Collie (Rough) of the Year 2001/2002.
Pedigree of

CHAMPION KGARI JARRAH

Parents
Grand Parents
Great Grand Parents

SIRE

AUST. CH. TYAGONG RAISING SPIRITS      

Corydon Rising Star (UK IMP)

 N.Z. Ch. Corydon Hot Rod (UK IMP)

Corydon Hannastar

Tyagong Goldstars Hope

Eng. Ch. Corydon Gold Star (UK IMP)

Tyagong Lady Candy

DAM

AUST. CH. BAQILODGE BELLADONNA

Eng. Ch. Corydon Gold Star (UK IMP)

Eng. Ch. Geoffdon Lawmaker

Corydon Hannastar

Corydon Bee Whimsical (UK IMP)

Eng. Ch. Corydon Handsome Hotspur

Corydon Glory Bee