CHAMPION BAQILODGE QUITE SO




Sire: CH. CORYDON BLACK ZERXES    Dam: AUST./AM. CH BLOSSOM HILL AMERICAN DREAM



HARRIET
At her very first show on the 19th August, 2006, at the Combined Breeds Dog Club Championship Show, Harriet was awarded Best Baby in Show by Judge: Mrs Cornellsen (Canada)
She only attended a handful of shows until the beginning of 2007. At that point we decided to mate her to Champion Pintado Keps Wisdom, They gave us –
Then the following year, 2008, she gave us a second litter of 8 black beauties.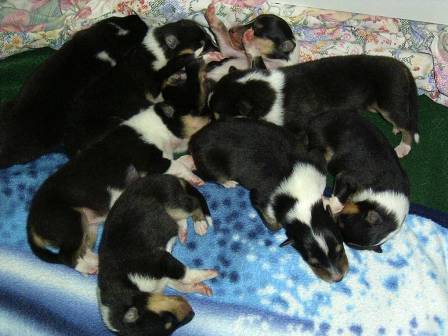 Harriet has had her family early and has just re-entered the show ring again.
September 2008. At her second show she strutted her stuff and took Best of Breed at the Royal Launceston Show. We are looking forward to campaigning her over the next few months.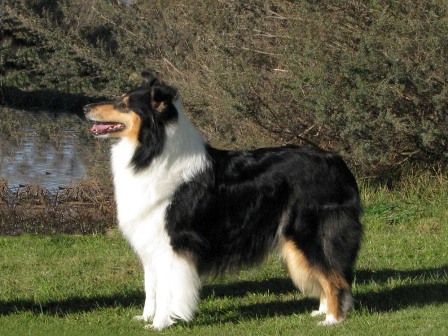 We are thrilled with the way our beautiful Harriet has matured and we are excited with the offspring she has produced for us.  We waited a long time for another top quality tricolour bitch to enter our breeding program, and that wait has been worthwhile.
At the end of her illustrious show career we entered her in the Victorian 81st Championship Show, 2013 under Judge: Tomas Rohlin, from Denmark, who awarded her 2nd in the Open Bitch Class of an entry of 15 with the following critique:
Champion Baqilodge Quite So
"7 years old in very good condition for her age. Very nicely molded head, good skull, very good muzzle and underjaw. Beautiful dark eye. Good ears. Very nice body proportions. Good neck. Excellent bone and ribcage. Enough angulation back and front. Good tail. Coat a little soft and wavy. Moves very well although could have more power. Excellent temperament".
Pedigree of

CHAMPION BAQILODGE QUITE SO

Parents
Grand Parents
Great Grand Parents

SIRE:

CH. CORYDON BLACK ZERXES (IMP UK)      

Eng. Ch. Corydon Black Cat

 Ch. Moon Wizard at Corydon (UK Imp)

Eng. Ch. Corydon La Stupenda

Corydon Gold Demelza (2CC's)

Eng. Ch .Alssala Canny Bairn at Corydon

Corydon Gold Delilah

DAM"

AUST./AM. CH. BLOSSOM HILL AMERICAN DREAM (IMP USA)

Am. Ch. Fantasy's Bronze Sensation

Am. Ch. Fantasy's Bronze Talisman ROM

Fantasy's Bronze Treasure

Am. Ch. Blossom Hill Full Circle ROM

Am. Ch. Fantasy's Bronze Talisman ROM

Am. Ch. Blossom Hill Day Dream ROM