CHAMPION KEAMAREE KAVALIER (CD)

Sire: AUST. CH. BRENTLAND BLACK ONYX         Dam: AUST. CH. BRENTLAND BEFROSTED

KARI
Kari Dog, or "KD" as he was sometimes known, was my first show dog. (Incidentally, his name is from the language of a S.A. aboriginal peoples and it means 'smoke').
Kari won many best of breeds, including three Royal Best of Breeds and 5 Royal Challenges. He did all of this by his own efforts as I was learning the ropes in all things collie and making many mistakes. As the perfect gentleman he was, he put up with all my short comings and tolerated me practicing grooming, showing, training, etc., with such good grace. He truly was a wonderful boy that paved a path for me in the collie world.
KD believed he was 100% human and many times he nearly had me convinced of this as well.
Before I saw Kari, I was looking for a tricolour dog. However, as there were no tricolour collies available at the time, I went to see a blue baby at Keamaree Kennels. When I saw him he was the most gorgeous silver blue and he instantly stole my heart. His colour never darkened or changed in his life. He truly was the most wonderful boy who opened the collie world for me. 
Thank you, Jane, of Keamaree Kennels, for allowing Kari to enrich my life. He was the love my my life and truly adored. We miss him and his entertainment acts so very much. For always treasured.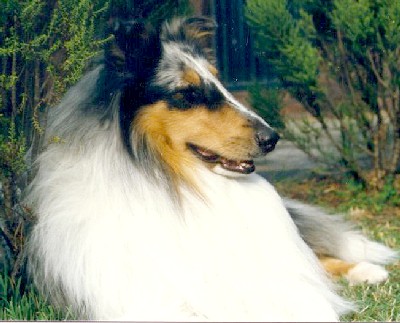 2003:  And still we don't sing  'How Much is That Doggy in the Window' song in our house as there is nobody to put in the 'woof woofs'.

Pedigree of CHAMPION KEAMAREE KAVALIER (CD)

Parents
Grand Parents
Great Grand Parents
SIRE

AUST. CH. BRENTLAND BLACK ONYX      

Corydon Copper King (UK IMP)

 Sandiacre Softly Softly

Corydon Coalblack Queen

Aust. Ch. Brackenlea Bea Starlet

Braden Starmaker

Aust. Ch. Ravenshope Remember Me CD

DAM

AUST. CH. BRENTLAND BEFROSTED

Aust. Ch. Brentland Blueprint

Dalwood Blue Diamond

Aust. Ch. Brentland Bewitching

Piphoney Blak Brocade (UK IMP)

Eng. Ch. Baronstar Black Diamond

Erjon Enchanted