Presents
CORYDON BEE WHIMSICAL (UK IMP)


Sire: ENG. CH. CORYDON HANDSOME HOTSPUR
Dam: CORYDON GLORY BEE
3/10/1987-31/10/1999



 Whimsy
Achievements:
I will always be indebted to John and Barbara Blake of Corydon Kennels (UK) for this most wonderful girl.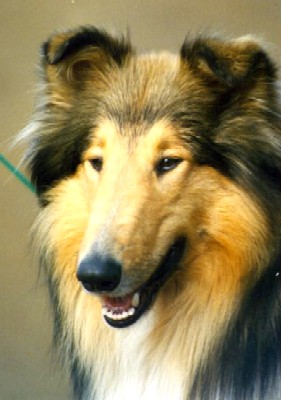 Unfortunatley, Whimsy didn't have a show career due to a fractured ilio-sacaral crest. There has been some speculation by vets that this may have happened during her travel to Australia from England. Although this injury did alter her gait, it didn't cause her any long term medical problems. (Incidently her hip scores were 0:1).
Whimmy became a wonderful brood bitch for me and with the help of her sister, Fancy, laid the foundation for my kennel. From only two litters she produced two champions for Baqilodge and six of her offspring went on to produce champions for Kgari, Calstead, Carluke, Tyagong and Ngalla Kennels.
Whimsy is also the mother of CHAMPION BAQILODGE BELLADONNA who won the "BEST HEAD" class and was 2nd in PUPPY BITCH class at the VICTORIAN COLLIE CLUB CHAMPIONSHIP SHOW, 1992. Her son, BAQILODGE BOBBY DAZZLER was BEST OPPOSITE PUPPY, while another daughter, 11 month old BAQILODGE BE BLESSED, placed 3rd in the JUNIOR BITCH class at the same show under respected collie judge, Zora Mitchell (Vic).
Also in 1992, in strong competition, Whimsy won the PARENT AND PROGENCY class with her daughters, CH. BAQILODGE BELLADONNA and BAQILODGE BREEZEALONG at the TASMANIAN WORKING DOG CLUB CHAMPIONSHIP SHOW.
At the 1993 NATIONAL COLLIE CHAMPIONSHIP SHOW her daughter, CH. BAQILODGE BELLADONNA placed 1st in the INTERSTATE AND COUNTRY EXHIBIT CLASS.
In 1995 her granddaughter, CH. KGARI JARRAH took out JUNIOR IN SHOW at the VICTORIAN COLLIE CLUB SHOW and then in 2000 took BEST OF BREED and OPEN IN SHOW at the TASMANIAN COLLIE AND SHETLAND SHEEPDOG SHOW and in 2001 at the same show was BEST OF BREED and RUNNER-UP BEST EXHIBIT IN SHOW.
1996 her son, CH. BAQILODGE EASY DOES IT was the winner of BEST INTERSTATE AND COUNTRY EXHIBIT CLASS at the VICTORIAN COLLIE CLUB CHAMP. SHOW.
2003 her great-grandaughter, BAQILODGE LOVE GOES WILD, carried on the family tradition and was BEST JUNIOR BITCH and RUNNER-UP JUNIOR IN SHOW at the VICTORIAN COLLIE CLUB CHAMP. SHOW.
We now look forward to Whimsy's great, great grandchildren. Thank you, so much my clever, beautiful girl.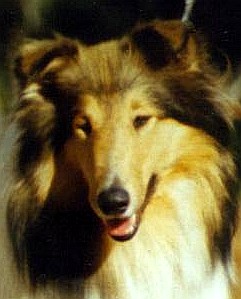 The day you left us, Whimmy, such a huge empty gap was left behind. You had so much character and personality and for this alone you could never be forgotten. I miss so much the stories you told me at the end of the day. What a talker you were! Rest gently, my precious girl.
2003. Your lovely daughter, BAQILODGE ETCHED IN GOLD, has taken up the story telling, Whim, and she also gives those wonderful "smiles" that you use to save for your "special" people, but she can't do the "crocodile…snap, snap, snap" . You are always in our hearts and minds.

Pedigree of "CORYDON BEE WHIMSICAL (UK IMP)"

Parents
GrandParents
GreatGrandParents
SIRE

ENG. CH. CORYDON HANDSOME HOTSPUR      

Eng. & Aust. Ch. Little Caesar at Corydon

 Eng. Ch. Corydon Quinalt

Eng. Ch. Everlovin' Emily at Corydon

Corydon Pollyhanna

Eng. Ch. Bririch Gold Edition

Eng. Ch. Corydon Hippolyta

DAM

CORYDON GLORY BEE

Nor. Ch. Corydon Augustus Caesar

Eng.& Aust. Ch. Little Caesar at Corydon

Corydon Polly Tucka

Aust. & Eng. Ch. Corydon Glory Hallelujah

Eng. Ch. Rokeby the Radical

Corydon Hannalara