Presents
BAQILODGE FAIRYTALE


Sire: AUST. CH. CALSTEAD NOBLEMAN
Dam: BAQILODGE ETCHED IN GOLD
18/1/96
  


Tessa
Achievements:
Tessa's greatest achievement has been to just survive. She arrived one week premature with three siblings who were all stillborn. She weighed all of 3oz. – a tiny baby with no hair on her head, legs and part of her body.
Tessa came into this world saying, "Feed me" and that is still her biggest demand today. She was 21 days old before she opened her eyes and 24 days before her ears opened. She has been the most healthy, happy and mischevious girl.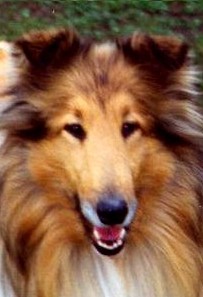 She is a little small so I don't show her, but she has lovely angles, moves very well, has the biggest coat and a most fantastic temperament.

Pedigree of "BAQILODGE FAIRYTALE"

Parents
GrandParents
GreatGrandParents
SIRE

AUST. CH. CALSTEAD NOBLEMAN      

Calstead Super Trooper

 Calstead Gold Trooper

Calstead Carabella

Calstead What A Lady

Corydon Colonel Polly (UK IMP)

Calstead Cover Girl

DAM

BAQILODGE ETCHED IN GOLD

Corydon Rising Star (UK IMP)

NZ. Ch. Corydon Hot Rod

Corydon Hannastar

Corydon Bee Whimiscal (UK IMP)

Eng. Ch. Corydon Handsome Hotspur

Corydon Glory Bee