Presents
CHAMPION PINTADO KEPS WISDOM


Sire: CH. CORYDON BLACK ZERXES (UK IMP)
Dam: PINTADO PENINAH
31st March 2003



Kep
Achievements:
KEP IS OWNED IN PARTNERSHIP WITH HIS BREEDER, DR ROB HALL, (Pintado Collies)
We are super delighted to welcome little Kep to the Baqilodge collie family. He has fitted in so easily and believes that Paris and Arcady live for his sole amusement.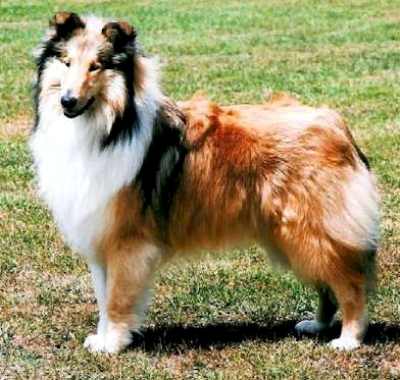 We know that he is going to be an asset to our breeding program as he has both of Baqilodge's foundation bitches, Ch Corydon Bee Fancy (UK IMP) and Corydon Bee Whimsical (UK IMP) in his pedigree. Maybe there is also the possibility he will bring back to the family some of Jacob's (Ch. Baqilodge Critics Choice) and Scott's (Ch. Baqilodge Easy Does It) attributes that we were not in a position to claim before.
Kep took his first challenge and was Runner-Up Best of Breed to his litter sister under Mr Cronchey (Vic) at 7 months. We look forward to continuing his show career over the next few years.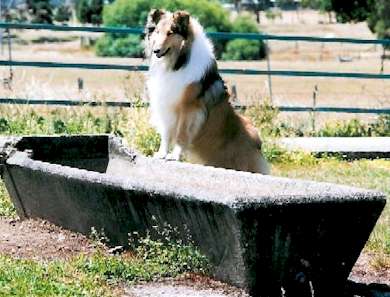 September 26th, 2005
The Tasmanian Collie and Shetland Sheepdog Championship Show
At 18 months of age Kep won:
DOG CHALLENGE
RUNNER-UP BEST OF BREED
JUNIOR IN SHOW
BEST HEADED
BEST GAITED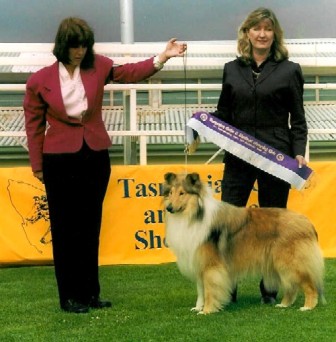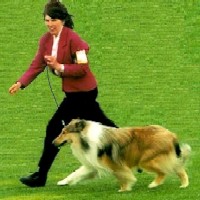 He insisted on a coat change and missed our Royal shows in October. Since then he has been enjoying home time. We are looking forward to exhibiting him again in 2005 so he can, hopefully, lay claim to the last 9 points he needs for his Championship. UPDATE: 7th May, 2005
Keppie attended his first show since September 2004 under Mr John Rice at the Brighton Kennel Club 19th March, garnering the Reserve Dog Challenge. He then made his second appearance 6 weeks later to win BEST OF BREED and complete his championship under Mr G Kerr.
UPDATE: November, 2008
Our beautiful shade sable boy has been busy in the nursery and has produced two lovely litters. We have his daughter, Baqilodge Ta Muchly, waiting in the wings, while his son, Baqilodge Tiger Tiger who lives in Canberra, was recently awarded "Best Headed" at the Victorian Collie Championship Show. Another son, Baqilodge Thumbs Up is getting ready to start his career in Western Australian. All three of these puppies have won In- Show awards at Specialty shows under collie specialists, but have had most of their puppy career time out of the showring.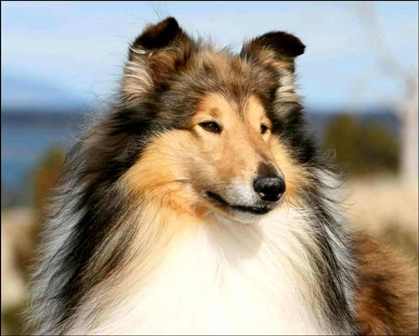 Thank you very much, Rob, for sharing this very handsome boy.
Pedigree of "CHAMPION PINTADO KEPS WISDOM"

Parents
GrandParents
GreatGrandParents
SIRE

CH. CORYDON BLACK ZERXES (UK IMP)      

Eng Ch Corydon Black Cat

 Aust. Ch. Moon Wizard at Corydon (UK IMP)

Eng Ch Cordon La Stupenda

Corydon Gold Demelza

Ch Alssala Canny Bairn at Corydon

Corydon Gold Delilah

DAM

PINTADO PENINAH

Ch Baqilodge Easy Does It

Corydon Rising Star (UK IMP)

Corydon Bee Whimiscal (UK IMP)

Ngalla Ingenue

Ch Baqilodge Critics Choice

Tyagong Goldstars Hope