Presents
BAQILODGE BURNISHED GOLD


Sire: ENG. CH. CORYDON GOLD STAR (UK IMP)
Dam: CORYDON BEE WHIMSICAL (UK IMP)
16/7/1990-22/1/1997


 Goldie



Achievements:
Goldie went to live at Tyagong Kennels in Victoria when she was 12 weeks old. She returned to Baqilodge when she was 4-years-old to begin her show career. In the 8 shows she attended during the short time she was with me, her typical, sweet collie expression and excellent movement gained her FIVE CHALLENGE CERTIFICATES – THREE with BEST OF BREED – and a RESERVE CHALLENGE. One of these challenge wins was under collie specialist, Mr Kevin Evans, and another, with BOB, under an international judge from Canada who was involved with collies. At this point she was three quarters of the way to her title and I retired her from the ring to be bred.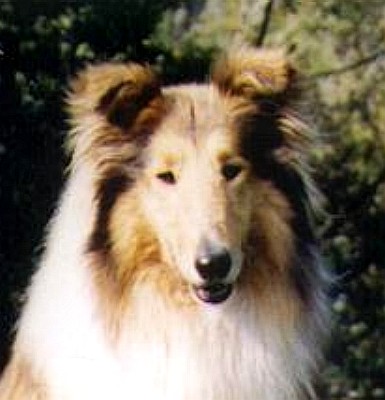 After she whelped her puppies she developed a temperature and cough. It was discovered several months later, when we couldn't contain the cough, that she had a very aggressive adenoid cancer. My vet was incredulous that she had managed to carry and whelp her babies. Even though she was unwell (we didn't know how unwell at this point) she was the most fantastic mother and refused to leave her babies for a moment.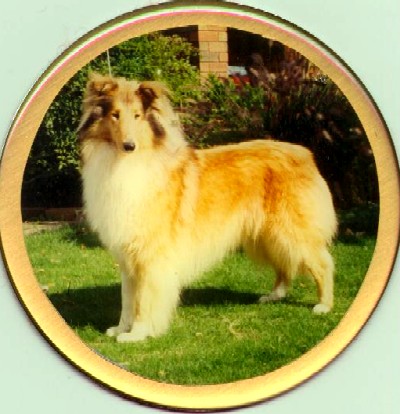 Goldie, darling it was all so unfair. Rest gently, my sweet one.
2003. The years have clocked on by, but our love and thoughts of you remain as strong as ever. Every time I mow the lawn, Goldie, I wish you were there to threaten the lawn mower – now I have do to it all by myself.

Pedigree of "BAQILODGE BURNISHED GOLD"

Parents
GrandParents
GreatGrandParents
SIRE

ENG. CH. CORYDON GOLD STAR (UK IMP)      

Eng. Ch. Geoffdon Lawmaker

 Eng. Ch. Arranbrook Mr Chips of Abberhill

Geoffdon Isabella

Corydon Hannastar

Nor. Ch. Corydon Augustus Caesar

Corydon Pollyhanna

DAM

CORYDON BEE WHIMSICAL (UK IMP)

Eng. Ch. Corydon Handsome Hotspur

Eng.& Aust. Ch. Little Caesar at Corydon

Corydon Pollyhanna

Corydon Glory Bee

Nor. Ch. Corydon Augustus Caesar

Eng. & Aust. Ch. Corydon Glory Hallelujah