Presents
BAQILODGE CADENZA


Sire: ENG. CH. CORYDON GOLD STAR (UK IMP)
Dam: AUST. CH. CORYDON BEE FANCY (UK IMP)
28/11/1990
  


Danza
Achievements:
Let me tell you about my most contrary collie. I'll start with the fact she is camera shy and that is why we have photographs like this. Should she see you with a camera or video she disappears. (Here you see her in the top photo at 9.5 years of age).
She didn't have a love of the show ring and even though she accumulated over half the points needed for her title and had nice comments from several different judges regarding her lovely sound movement, her loathing of the all the show procedures gained her early retirement.
I thought motherhood might be her forte and sent her to Melbourne three times. Each time, on her return, we waited anxiously for babies. I am sure due to her contary nature, she refused to fall pregnant!! Deciding to give her one final chance (time was running out, she had just turned 7) I mated her to BAQILODGE HEART AND SOUL who resided at Pintado Kennels and, would you believe, she gave me the very handsome CH. BAQILODGE JEMSLEGACY and the most gorgeous BAQILODGE JEMSGIFT. There were only the two babies but they were exceptionally special. Both have had great show careers. (CH. BAQILODGE JEMSLEGACY is owned by Dr Robert Hall and lives at Pintado Kennels).
As Danza was a great mum and very healthy, I decided to mate her again on her following season to CH. CORYDON OUTLAWED TO OZ (UK IMP), owned by Lynn Young. Remaining true to her contrary nature, she produced TEN beautiful, healthy puppies, which she proceeded to rear with great skill. I have the lovely BAQILODGE KNOCK ON WOOD from that litter.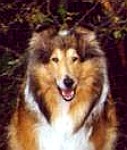 Danza is the mother of ROYAL HOBART SHOW BEST OF BREED collie 1999 and 2000 and the mother of the ROYAL LAUNCESTON 1999, 2002 CHALLENGE DOG and RUNNER UP BEST OF BREED winner, and the 2000 BEST OF BREED collie.
She is also the mother of both the BITCH and DOG RESERVE CHALLENGE winners of the 2000, as well as mother of, DOG CHALLENGE AND RU-BOB winner of the 2001 and 2002 shows of the TASMANIAN COLLIE AND SHELTLAND SHEEPDOG CLUB.
She is dam of Pintado Kennel's, CH. BAQILODGE JEMSLEGACY who was the RUNNER-UP BEST IN SHOW WINNER at the large all-breeds Dogfest Champ. Show in October 2001. You can find him at: Pintado Collies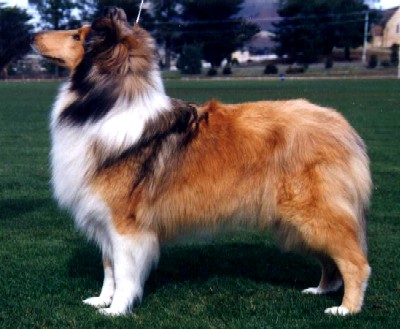 Danza now is a permanent house-dog who sleeps beside my bed. (She flatly refused to go back to the kennels afer her last litter of puppies).

Pedigree of "BAQILODGE CADENZA"

Parents
GrandParents
GreatGrandParents
SIRE

ENG. CH. CORYDON GOLD STAR (UK IMP)      

Eng. Ch. Geoffdon Lawmaker

 Eng. Ch. Arranbrook Mr Chips of Aberhill

Geoffdon Isabella

Corydon Hannastar

Nor. Ch. Corydon Augustus Caesar

Corydon Pollyhanna

DAM

AUST. CH. CORYDON BEE FANCY (UK IMP)

Eng. Ch. Corydon Handsome Hotspur

Eng. & Aust. Ch. Little Caesar at Corydon

Eng. Ch. Everlovin' Emily at Corydon

Corydon Glory Bee

Nor. Ch. Corydon Augustus Caesar

Eng. & Aust. Ch. Corydon Glory Hallelujah