Presents
CHAMPION BAQILODGE BELLADONNA


Sire: ENG. CH. CORYDON GOLD STAR (UK IMP)
Dam: CORYDON BEE WHIMSICAL (UK IMP)
16/7/1990-14/12/01



 Bella



Achievements:
Here she is at nearly 11 years of age, obviously enjoying life and still looking good. Bella had a sparkling show career with Kgari Kennels winning many, many IN-GROUP and IN-SHOW Awards at All-breeds and Specialty Shows.
She is the mother of the lovely CH KGARI JARRAH.
Kgari Kennels has relocated to Western Australia from Tasmania and I am very happy that Bella is spending her retirement here with us at Baqilodge.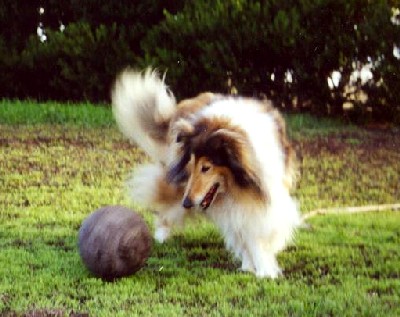 Vale – 14/12/01.
She was my shadow and she is so sadly missed. Bella, I know you came for a visit. Thank you.

Pedigree of "CHAMPION BAQILODGE BELLADONNA"

Parents
GrandParents
GreatGrandParents
SIRE

ENG. CH. CORYDON GOLD STAR (UK IMP)      

Eng. Ch. Geoffdon Lawmaker

 Eng. Ch. Arranbrook Mr Chips of Aberhill

Geoffdon Isabella

Corydon Hannastar

Nor. Ch. Corydon Augustus Caesar

Corydon Pollyhanna

DAM

CORYDON BEE WHIMSICAL (UK IMP)

Eng.Ch. Corydon Handsome Hotspur

Eng. & Aust. Ch. Little Caesar at Corydon

Eng. Ch. Everlovin' Emily at Corydon

Corydon Glory Bee

Nor. Ch. Corydon Augustus Caesar

Eng. & Aust. Ch. Corydon Glory Hallelujah