Presents
CHAMPION BAQILODGE LOVE GOES WILD


Sire: CH CORYDON BLACK ZERXES (UK Imp)
Dam: CH KGARI JARRAH
17/6/02

 Arcady
*Best in Group winner*
* R-UP BIS winner*

Achievements:
Arcady, or Cady Lane, as she is sometimes known, has had a wonderful show career todate with BABY, MINOR, PUPPY, and JUNIOR IN GROUP/SHOW awards, as well as, CHALLENGES and BEST OF BREEDS. At 12 months she is well on the way to her Championship Title.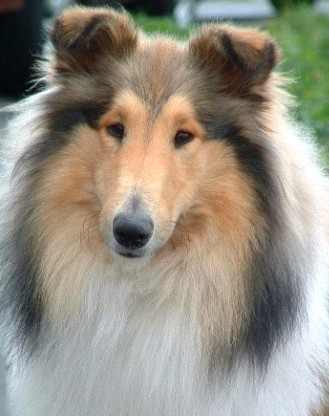 I guess the highlights so far have been:
RESERVE CHALLENGE BITCH, RUNNER-UP BEST OF BREED and MINOR PUPPY IN SHOW at the TASMANIAN COLLIE AND SHETLAND SHEEPDOG championship show under Mr Leonard from Ireland, March 2003.
BEST OF BREED AND JUNIOR IN SHOW at the TASMANIAN WORKING DOG CLUB championship show in June 2003.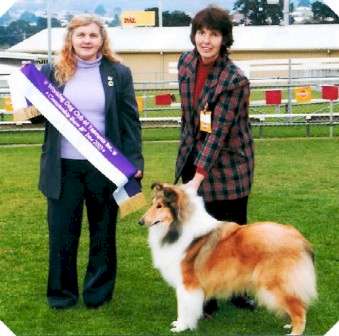 BEST JUNIOR BITCH and RUNNER-UP BEST JUNIOR IN SHOW at the VICTORIAN COLLIE CLUB championship show under Mr Kevin Evans (Vic), July 2003.
RESERVE CHALLENGE BITCH at the ROYAL LAUNCESTON SHOW, 2003 under a Canadian judge, Mr Maurice Tougas.
RESERVE CHALLENGE BITCH at the ROYAL HOBART SHOW, 2003 under Mrs Ingram (Ireland)
Update February, 2005:
During 2004 Arcady was only exhibited at 5 shows (unfortunatley missing our Royals and our Collie and Sheltie Championship shows). At 4 of the 5 shows she did attend she played bridesmaid – by taking the Reserve Challenge – to her kennel mate, Ch. Vedamea Just A Fantasy. Mid January 2005 she returned to the show ring to take 4 consecutive Best Of Breeds, 2 State Bred In Groups, while accumulating the final points for her title. I also must thank Julie Kaden of Mistryde Shetland Sheepdogs for expertly handling Arcady for these shows.
Update March, 2005:
Arcady was exhibited at the Brighton Kennel Club Championship Show under Collie Specialist and International All Breeds Judge, Mr John Rice (SA), and was award BEST IN GROUP . Show Specials Judge, Mrs I Glynn, then awarded her RUNNER UP-BEST IN SHOW . Thank you very much to the judges.
Update NOV, 2008:
In 2007 Arcady spent a number of months, with Kaeyli Collies in Victoria, being shown on the Victorian Show Circuit. She enjoyed a lot of success in the show ring with Challenges and Best of Breeds, even gaining a 25pt challenge under a Collie Specialist. Prior to this she raised a litter and we hope her daughter will venture into the show ring in 2009.
In February 2009 we took the following pictures of Arcady as a mature collie. We hope you enjoy them as much as we do.
Pedigree of "CHAMPION BAQILODGE LOVE GOES WILD"

Parents
GrandParents
GreatGrandParents
SIRE

CH CORYDON BLACK ZERXES (UK Imp)      

Eng Ch Corydon Black Cat

 Aust Ch Moon Wizard at Corydon

Eng Ch Corydon La Stupenda

Corydon Gold Demelza

Eng Ch Alssala Canny Bairn at Corydon

Corydon Gold Delilah

DAM

CH KGARI JARRAH

Ch Tyagong Raising Spirits

Corydon Rising Star (UK Imp)

Tyagong Gold Stars Hope

Ch Baqilodge Belladonna

Eng Ch Corydon Gold Star (UK Imp)

Corydon Bee Whimsical (UK Imp)