Presents
AUSTRALIAN AND AMERICAN CHAMPION BLOSSOM HILL AMERICAN DREAM (IMP USA) – BEST IN GROUP WINNER – Australia


Sire: AM. CH. FANTASY'S BRONZE SENSATION
Dam: AM. CH. BLOSSOM HILL FULL CIRCLE (ROM)
14 January 2003

 Anika
* BEST IN GROUP – Australia*
* Runner-up BISS
* 1:3 Ratio of In-group, In-show wins
* Dam of 7 Campions
* Chosen from among her peers to represent her breed on mechandise sold at the Collie National, 2009.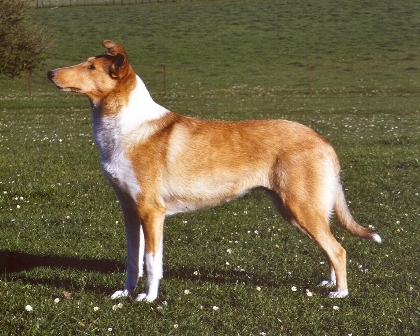 We couldn't love her any more than we already do!
Achievements:
After waiting 16 years for a Blossom Hill smooth collie our dreams have come true.
We are so extremely thrilled to announce that Anika HAS ARRIVED.
Here are a few candid shots of Anika "learning the Aussie way of life". These were taken during her stay in quarantine – May/June 2004.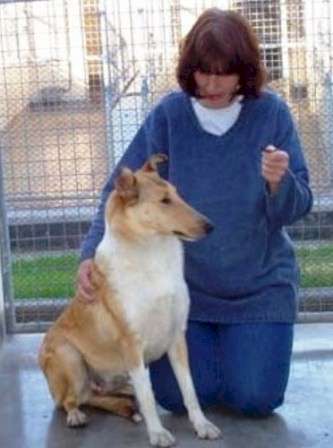 Anika is our first smooth collie. We can't imagine where our "American Dream" will take us, but we do know that the journey will be saturated with excitement, anticipation and adventure.
Anika's Australian Show Career:
Her Australian show career began at the Tasmanian Collie and Shetland Sheepdog Championship Club Show on the 26th September 2005 where she was awarded Best of Breed and Intermediate in Show.
Unfortunately, due to delayed paper work, we missed the Royal Show enteries this year. Since October she has gone on to consistently win under specialist judges and all breeds judges. She gained her AUSTRALIAN CHAMPIONSHIP at her 13th show on the 19th March, 2005 under Collie Specialist and International All Breeds Judge, Mr John Rice (SA) plus an Intermedite in Group award.
Along the way to her title she has claimed –
* 13 x BEST OF BREED
* 1 x BEST EXHIBIT IN GROUP
* 5 x INTERMEDIATE IN GROUP
* 1 x INTERMEDIATE IN SHOW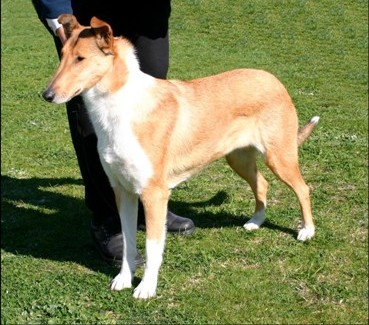 TO FIND OUT A LITTLE MORE ABOUT ANIKA'S STORY PRIOR TO COMING TO AUSTRALIA – READ ON…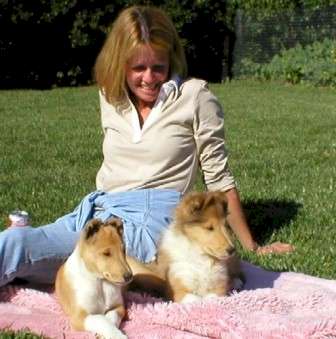 Anika with her rough brother, Hummer – just babies. Sitting in the sun with their carer.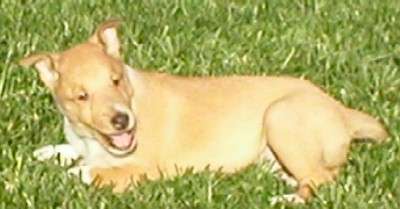 Do you think she might be a bit of a character?
Anika was born to the famous smooth, Ch Blossom Hill Full Circle – Top Winning Show Collie (rough or smooth) in American breed history. Anika has an astounding pedigree with some of America's top winning AND top producing stock. She has been carefully bred and for many generations great attention has been given to health, temperament and reproduction vigour as well as to conformation and breed attributes of her individual ancestors.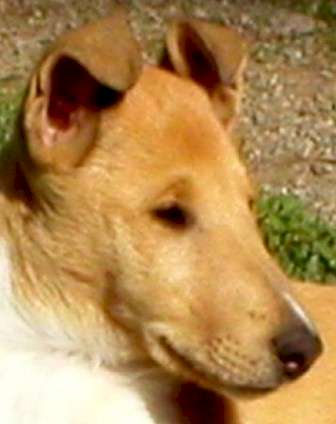 4 months
The thrills have been many already. While waiting to complete her health testing prior to coming to Australia, her breeder, Mary Wells, offered to exhibit her in the American show scene. Of the 9 shows that she has attended so far (with her two smooth sisters) she has been awarded:

1 Best Puppy in Show
1 Best of Variety
3 Best of Winners
5 Winners Bitch
3 Reserve Winners and
9 class wins
(All from the 6-9 months class)


Anika at18 months

She has both of her majors and only needs 3 minor points now to take her American championship title. She is just 8 months old! Each time she has gone Reserve it has been to one or the other of her sisters. Mary said in her last email: "12 points at 8 months old, it is simply amazing! Guess I could say with confidence that we will be able to finish her before she needs to go".

UPDATE FEB 2004: Anika attained the last few points for her Championship under Mrs Sara Futh (Secretary of the Collie Club of America and a Best in Show All Breeds judge). Anika is the third bitch from her litter to title; with her smooth sisters, Ch Blossom Hill Dream Keeper and Ch Blossom Hill Dare To Dream, just pipping her at the post.


I cannot express how humble I feel at being given this unbelievable opportunity to have this extraordinary (in every way) little girl come and live with us. I could never repay Mary and Paul of Blossom Hill Collies, California, USA, nor thank them enough for their infinite generosity and great trust.

To find out more about Anika's family see "ANCESTRAL HISTORY OF AUST. & AM. CHAMPION BLOSSOM HILL AMERICAN DREAM" on this site.


Pedigree of "AUSTRALIAN AND AMERICAN CHAMPION BLOSSOM HILL AMERICAN DREAM (IMP USA) – BEST IN GROUP WINNER – Australia"

Parents
GrandParents
GreatGrandParents
SIRE

AM. CH. FANTASY'S BRONZE SENSATION      

Ch Fantasy's Bronze Talisman (ROM 157)

 Ch Vennessee's Midnight Edition (ROM 25)

Ch Fantasy's Cover Girl (ROM 9)

Fantasy's Bronze Treasure

Ch Fantasy's Fortune in Bronze

Cynabar N' Westwinds Curio

DAM

AM. CH. BLOSSOM HILL FULL CIRCLE (ROM)

Ch Fantasy's Bronze Talisman (ROM 157)

Ch Vennessee's Midnight Edition (ROM 25)

Ch Fantasy's Cover Girl (ROM 9)

Ch Blossom Hill Day Dream (ROM 9)

Ch Twin Creeks Lonesome N Blue

Ch Blossom Hill Homecoming