Presents
JEBAD DAISY


Sire: DANTRINE JONATHON
Dam: DANTRINE BEAU BELLE
5/11/87-16/12/2001
  
Cassie
The Best Little Cocker – Ever!
Achievements:
OK, I know she is not a collie, and I can guarantee that Cassie never thought for one moment she was one. She was never confused about who or what she was -just the BEST LITTLE COCKER EVER! We had known Cassie since she was a baby, but it was only the last 4 years of her life that she came to lived with us at Baqilodge.
At first I wasn't sure that we NEEDED a cocker spaniel but we found out that we did indeed need our little Cassie!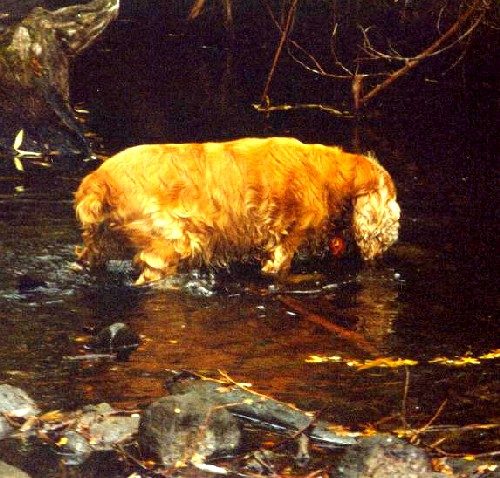 Cassie doing what she enjoyed most – playing in the water.
The time she spent with us was cherished and memories of her are very precious.
2003: We have discovered, little Cassie, that you must have reincarnated in our lovely Arcady as she has the same love of water that you had…..not typical collie at all. Of course, if that is the case, you are gladly welcomed back!

Pedigree of "JEBAD DAISY"

Parents
GrandParents
GreatGrandParents
SIRE

DANTRINE JONATHON      

Aust. Ch Springdale Red Hero

 Yunbeai Elite

Ratmalana Winsome Win

Judenal Cara

Aust. Ch. Doubloon Dark Earl

Stemarjen Jacinta

DAM

DANTRINE BEAU BELLE

Midasand Startrek

Aust. Ch. Haywyn Mister Paul

Starview Waltz a Way

Judenal Cara

Aust. Ch. Doubloon Dark Earl

Stemarjen Jacinta