Biography
BAQILODGE KENNEL is dedicated to the collie breed and maintains a continuous quest for "canine education", with particular emphasis on the beautiful collie breed. I try to use this knowledge to best advantage in my breeding programme: allowing Baqilodge Collies to be strongly competitivie in the show and/or obedience rings as well as wonderful pets and companions.
At Baqilodge we pay serious attention to the health and temperament of our collies, as well as to breed type and structural conformation – as called for by the breed standard.
We breed to maintain our bloodlines and to try and improve our stock. Breeding stock is eye checked and hip x-rayed and hold official certificates pertaining to these examinations. Puppies are whelped beside our bed and at about 2 weeks of age are transfered to the kitchen. Between 4-8 weeks of age (depending on the weather) they spend the day outside, seeing all the sights and sounds, but the evenings are spent playing in the kitchen and helping with the housework – all in the name of socialization!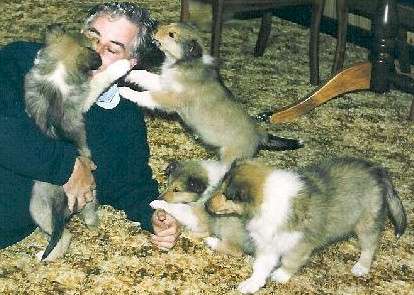 As diet, appropriate exercise, socialization and high kennel hygeine standards are critical in the rearing and wellbeing of puppies, and for maintaining the health of our adults, we will never compromise on any of these elements.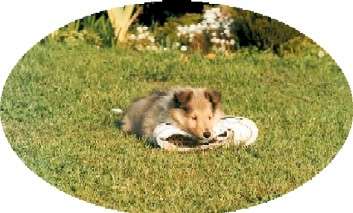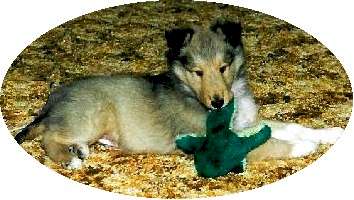 All puppies are eye checked by a registered veterinary ophthalmologist by eight weeks of age. Aptitude & temperament is evlauated as close to 49 days of age as possible, using the Monks' of New Skete examination criteria. (This guides us in making sure each individual puppy and prospective new owner are compatible). All puppies are vaccinated and wormed following current protocols.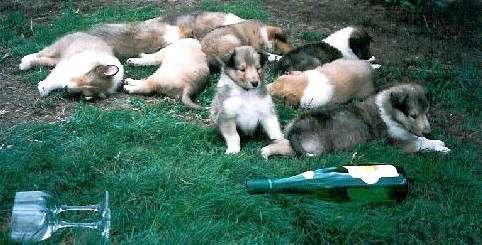 Each of our dogs spend one-on-one time with us and take turns to sleep in the house at night. At around age 10 they are awarded the honour of "geriatric status" and they become permanent house-dogs. Of course if any should be sick or injured they are brought into the house until they are fit and well again.
Baqilodge is a small kennel maintaining 10-15 dogs maximum – each one dearly loved. I am a member of the Tasmanian Canine Association, a member of the Tasmanian Collie and Shetland Sheepdog Club and the editor of the Club newsletter, "Tassie Tails". I am also a member of the Hobart Canine Obedience Club and an obedience instructor although I am not currently instructing. In January 2001 I was made an honorary life member of the Tasmanian Canine Defence League and in October 2001 awarded a Commendation for Services to Canines by the Tasmanian Canine Defence League in recognition of my work with rescue.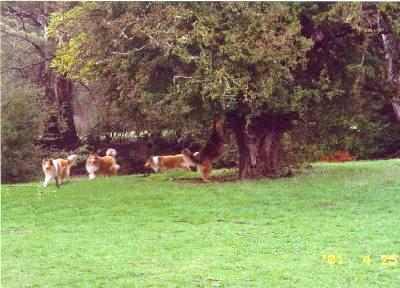 (Can you see Jantz looking in the tree for possums?)
Due to heavy commitments, I only attend a few shows per year and not showing more than two to four dogs at any one show. Once our dogs have gained their titles they are semi-retired (only coming out for Royal Shows and Specialty Shows) so younger ones can take their place. We don't deliberately campaign for Grand Champion status because, as it stands at the moment, we feel the eligibility for this title lacks value and thus contains little incentive for us. However, we do hold our own and make our presence felt in both the All Breeds and Specialty conformation rings. You can find some of our more recent results from some of the more important shows on our Show History page.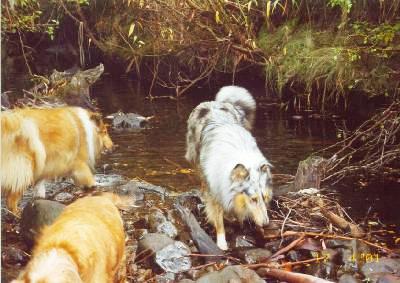 If I could have ONE WISH it would be that I would never have to say goodbye to any of my beloved dogs, but this is just not possible so I try to make their lives rich and full and I cherish my time with them. We take many walks in the hills surrounding our beautiful valley and long runs across the paddocks beside the creek that flows past our place.
In summer we spend time on the beach.
Thank you for looking at the photos of my Collies on this website. Instead of just presenting the kennel "stars", I have included ALL the Baqilodge Collies who live with us – (OUR BOYS and OUR GIRLS) – or who have lived with us -(MEMORIES).
My gratitude and thanks goes to my mentors who have also inspired and encouraged me, John and Barbara Blake, Corydon Kennels, UK; Mary Wells, Blossom Hill Kennels, USA; and Carol Freeman, Calstead Kennels, Aust.
A very special thank you to the Kennels who have cheered me on through the good times and supported me through the tough times -Kazzahki Shetland Sheepdogs, Kgari, Pintado, Ngalla, Herrlicheine, Tyagong & Maigrey Collie Kennels, Mistryde Shetland Sheepdogs, as well as my fabulous vet & friends, Dr Geoff Deans, Hobart Animal Hospital, and Dr Sean Muir and last, but certainly not least, – to all the owners of Baqilodge Collies.
Please feel free to e-mail comments or ask for information if you so wish.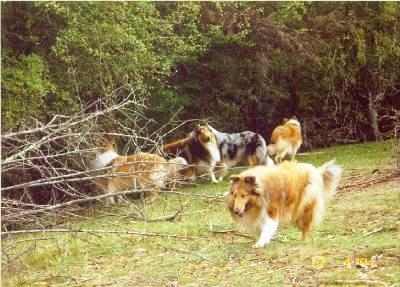 THE ABOVE PHOTOS SHOW THE LIFESTYLE WE LIKE TO GIVE OUR DOGS.
TO SEE MORE PHOTOS:
OPEN EACH DOG'S PAGE